An Innovative Model for Creating a Stronger, More Equitable,
and Prosperous St. Louis Region—Once and for All.
Beyond Housing and Bailey & Co. have launched a new effort called "Once and for All."
The effort unveils Beyond Housing's comprehensive, holistic model for strengthening families and transforming under-served communities—which provides a solution for the St. Louis region's high concentrations of poverty and communities in decline and the resulting negative impact on the greater region.
A wealth of research shows how the St. Louis region's longstanding challenges—from high crime rates to failing schools, slow economic growth, and the region's long, steady decline in national prominence—are directly tied to St. Louis' high concentrations of poverty which are heavily link to zip code and color.
The communications campaign is launching with a series of videos called "Dear Lou." Each video is an open letter to the Greater St. Louis region on the need to come together to address the root sources of the region's challenges.
The videos direct viewers to a campaign microsite at onceandforall.org where people can get involved with the campaign and learn about Beyond Housing's model for transforming communities and creating a stronger St. Louis region.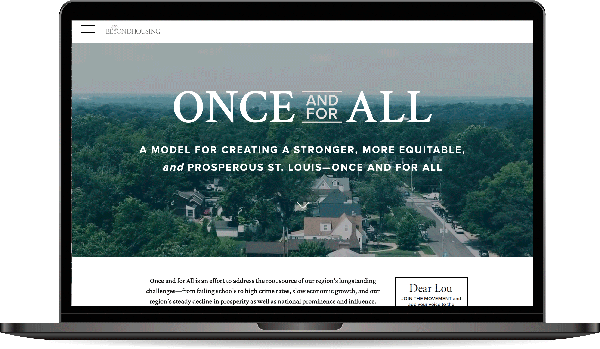 The multi-channel campaign includes broadcast, paid and organic social, social influencers, pr, blogs and newsletters, corporate engagement, and more.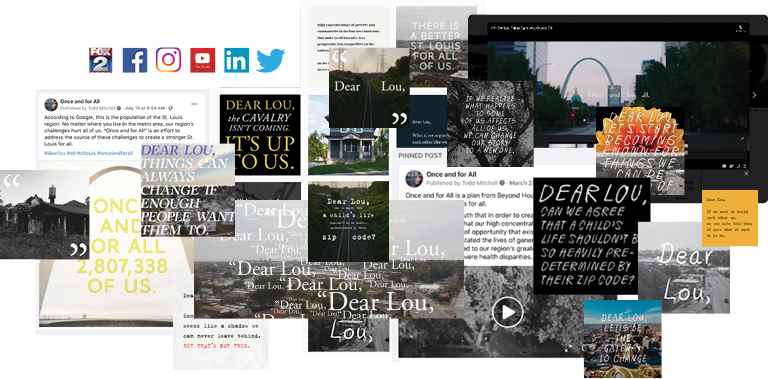 The initial work behind this campaign began way back in late 2018. Bailey & Co. worked with Beyond Housing for several months to develop and formalize the organization's strategic model for addressing poverty and transforming under-resourced communities. The model is based on decades of Beyond Housing's experience as well as learnings from national thought leaders, including Health Equity Works at Washington University in St. Louis, the Aspen Institute, the Stanford Social Innovation Review, NeighborWorks America, and the Federal Reserve Bank of San Francisco.
Based on the model, Bailey & Co. worked with the organization to develop a new mission statement to engage a larger base of civic leaders, foundations, corporations, and donors to come together to address the region's many challenges.
Strengthening Families and Transforming Communities to Create
a Stronger, More Equitable, and Prosperous St. Louis—Once and for All